Since 1987 AccountView supplies financial business software to over 28,000 customers in the UK, the Netherlands and Germany. These are constantly being joined by new customers, including companies in Belgium, France, Spain, Surinam and the Netherlands Antilles. AccountView is a Dutch vendor of Financial Logistic software, windows based and user-friendly. AccountView has programs for the first starter and small business, for the more comprehensive entrepreneur and the top companies each for their own business and environment. Every product has its own possibilities and shapes together a very useful product for the financial administration. Modules are available for Logistics (purchase, stock, billing), Project administration including hour registration and declaration and Relation manager (CRM module). AccountView also has software for accountancy companies. AccountView has an open fully integrated database with import and export possibilities. Your own database can be integrated with AccountView; the Business Modeller and System Development Kit gives all the possibilities. With the COM client you will find all the office possibilities. AccountView has 3 different versions for different users:
AccountView SOLO

Take a look at the possibilities offered by AccountView. With this user-friendly and comprehensive business application, anyone can get started quickly: even if you have little or no experience of bookkeeping!

AccountView Team

Are you looking for a bookkeeping program for a small business, one that is easy to use but still provides all the features and analysis that you need? If so, AccountView Team is the solution for you, because you can easily build on this basic version using supplementary AccountView modules to produce a total solution that is tailor-made for your specific business circumstances.

AccountView Business

You can extend AccountView Business with all the AccountView modules. This allows you to put together a solution that is tailor made for your way of doing business. You only invest in functionality that you actually need. We recommend you to examine, together with your supplier, which modules are applicable for you.
Are you interested in AccountView and would you like more information? Please feel free to contact us.
Computer
A 32-bits of 64-bits processor.
Minimal 1 GB memory.
Operating system
We advise Windows 7 or newer versions of Windows.
Windows XP is no longer supported and Windows Vista is no longer supported under AccountView 9.8a.
We advise Microsoft Internet Explorer 11 or higher.
Operaring system (file)server
Windows Server 2008 or higher and for AccountView versie 9.8a minimal Windows Server 2008R2.
Internet connection
For some functionality, like Addresscheck of PostNL, de KvK-registerdienst and direct banking interfaces an internet connection is required.
E-mail
Microsoft Outlook, Microsoft Outlook Express, Windows Mail, and e-mail handling via MAPI and SMTP are supported.
Disk space
The total size of AccountView is 1 GB (international version). This is including the Microsoft .NET Framework.
Additional disk space is reqired for each administration you create. The amount is depending on the size of the administration: total debtors, creditors and articles, the number of transactions per day. A small administration will take up around 10-25 Mb, and an average administration can take up 25-150 Mb. For each year you would create a new administration.
Additionally you would need disk space for processes like organizing the administrations.
Monitor
Minimal resolution of 1024×768
Printer
Any printer supported by the operating system.
Window 10 Changes
Make the changes in each workstation with Windows 10 that will access the Accountview software
Windows 10 required changes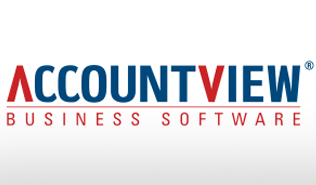 Contact
Kaya Katoentuin 36 | Willemstad | Curaçao | Tel: +599 9 690 6665 | KvK nr.:84647