BrancheView delivers more than 50 software modules for everyone who works with AccountView. They develop these modules by themselves from their years of experience and from the customers who work with AccountView. The modules make it easier and more complete to use AccountView. This way accountancy offices, auditors, and bookkeepers can do there work more efficient.
With AccountView you can do much but with BrancheView you can even do more. BrancheView makes AccountView easier because of the ideal functions for import, mutations, consulting and report. BrancheView has modules AccountView doesn't offer, for example budgeting, billing and options for implementation in Word. We say: BrancheView on top of AccountView.
BrancheView offers the following modules for implementation in AccountView:
General
Financial
Commerce
Budgeting
Integration branch applications
Are you interested in BrancheView and would you like more information? Please don't hesitate to contact us.
System
Processor: Pentium 4 or equal
Memory: 512 MB Ram and more
OS: Windows XP(SP2) and newer
Browser: Internet Explorer 6 (from SP1) and newer
Hard disk: Minimum 2.5 GB of free space
Monitor: 1024 x 768 resolution and better
Printer (supported by your system)
Accountview installation
Fileserver
OS:
– Windows server 2000
– Windows server 2003
– Windows server 2008
– Novell Netware V3 and newer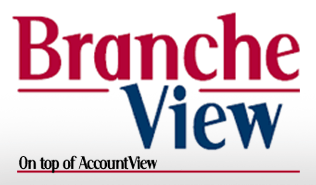 Contact
Kaya Katoentuin 36 | Willemstad | Curaçao | Tel: +599 9 690 6665 | KvK nr.:84647